Zubaida Tariq Apa  Tips and Totkay for Long Silky Shiny Long Hair for Men and Women in Urdu and English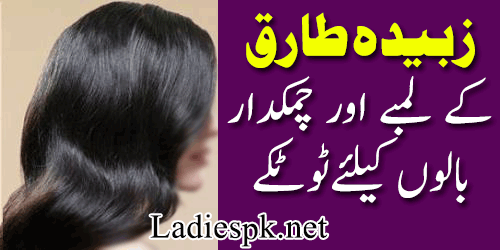 Zubaida Tariq, also known as Zubaida Apa is a very popular Pakistani cooking expert and chef. She is not only a cooking expert but also a health and fitness expert.
Zubaida Tariq's Tips and Totkay for Hair Loss, Silky Shiny Thick Long and Beautiful Hair and for Hair Dandruff Treatment are very Famous in both women and men.
Her Hair Fall Tips and Home Remedies are very useful and effective to get ride of these problems, Zubaida Tariq's Shampoo recipe for hair is also helpful for hair loss and Dandruff solutions, good thing is that all the ingredients which used in her Tips and Home Remedies are easy available in markets and mostly you can get from your own house her Tips and Totkay are very simple and easy to use.
We have many Hair Tips Collections of Zubaida Tariq for Long Silky Shiny Dandruff Free Hairs we have also hair Shampoo recipe as well.
Click Here for >> Zubaida Tariq Tips For Hair
Apa Zubaida Tariq's Tips, Totkay and natural home remedies for Skin, Face Pimples and Acne face Care, Skin Glowing and Fairness, for oily skin, hair dandruff, hair loss, and shampoo for shiny long black hair, blackheads remove permanently, dark circles treatment are very effective and liked by all men, women and young girls, especially her Weight Loss Tips and Totkay and Diet Plan for Weight Loss are very useful and famous in Women and Men.
She doing a coking show on Hum Masala TV which name is Handi, her show is very popular not only in Pakistani Women its also watched in all over the world and helpful for women and girls who has interested in cocking and wants to become a good house wife.
Zubaida Tariq Method for Hair Fall in English
A 1/4 teaspoon of tea leaves boil in a cup of water and water throw out.
In one jug of water, add boil tea 1 or 2 teaspoon, Tez Patta (bay leaves) and a few mint leaves and boil all these ingredients and save its boiled water.
Wash the hair with water.
this water will make your hair more silky and shiny your hairs color will also become lighter.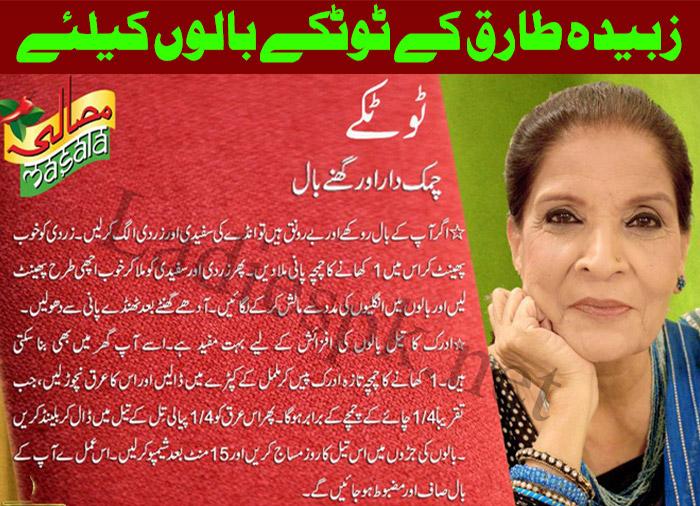 Join Zubaida Tariq Apa Facebook Fan Page for Daily Updates and for Tips in your News Feed of Faacebook Click Here and Like >> Zubaida Tariq Facebook Fan Page