Top 10 Beauty Tips For Skin Glowing and Whitening for Men and Women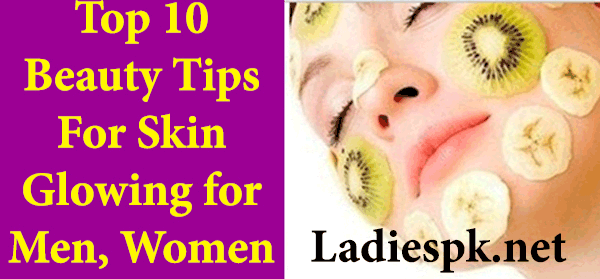 Today We Sharing with Top 10 Skin Glowing Beauty Tips for Women, Girls and for Men also follow these tips and get fresh lighten brighten face better result in few days
1.  Make sure that your face is without makeup and clean before going to the bed so that your skin can breathe while you are sleeping therefor must remove your face makeup.
2.  Clean, tone, and moisturize your face daily 5 time in a day, morning noon, after noon, evening and night with face care products suitable for your skin type.
3. For removing tan, in a little quantity juice of cucumber, add a few drops of lemon juice and apply on your face with cotton and wash after 20 minutes
4. Easy way to remove dark circles under eyes, cut a raw potato in slices and apply it on the eyes this tips will help you to get ride from dark circles
5. For Glowing Face and Whiting take the juice of grated potato and apply on your face for 30 minutes then wash with fresh water, you will get lighten and brighten skin
6. While going out from home, must use sun block or sun protection factor of at least 30
7. To Keep your face fresh and healthy don't wash your face with harmful soaps, use a soft face wash it also good for oily skin and for get ride from pimples and face acne.
8. For glowing skin  Must get a facial clean up done once in a month.
9. If you using face mask and face scrub you should refrigerate it for 15 minutes before using, your skin will feel fresh
10. Take oatmeal and mix it in warm water and apply it on your face directly for 20 minutes. This face mask will tighten up the facial skin and also has a calming effect on the skin.